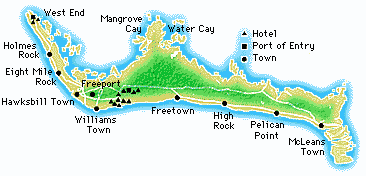 This 96-mile long island just 55 miles off Florida's east coast has it all. It offers a perfect tropical setting and all the conveniences of a modern city, with everything from pine forests to sandy white beaches with crystal clear waters to old fishing villages by the sea.
Freeport / Lucaya is this nation's second most populated city. People who are looking for a destination that is foreign, yet feels familiar will appreciate Grand Bahama. It has shopping, casinos, entertainment, sports, nature parks and, of course, beaches.
A modern city in a tranquil environment of palm lined streets offering all the conveniences found in the U.S., with traditional Bahamian architecture showcased in the Government buildings, such as the Supreme Court Building and the Port Authority Office.
Located in the heart of the island, Lucaya features a lively marketplace, a world-class marina and several fine resorts to meet all of your vacationing needs.

Authorized Ports of Entry:
The following are ports of entry in The Bahamas. Vessels may not enter at places other than those listed.

Grand Bahama: West End, Freeport Harbour, Port Lucaya Marina, Lucaya Marina Village, Xanadu Marina.